As the festive season inevitably draws near, there is nothing quite like the magical ambiance of a Christmas market to get you in the festive mood. In this guide, we'll explore some of the most enchanting and largest Christmas markets that the United Kingdom has to offer.
Edinburgh Christmas Market
Following last year's incredible turnout of 2.5 million visitors, the 2023 Christmas Market will be introducing an entry ticket system. This market will commence on the 17th November 2023, until the new year where the market will end on the 6th January. This enchanting market takes place in two locations: East Princes Street Gardens in the Mound Precinct and George Street in New Town. As well as lots of mystical market stalls, there will be an ice rink, Christmas tree maze and Santa Claus! The market advises that dogs are best to be left at home and for visitors to use public transport rather than driving to minimise congestion.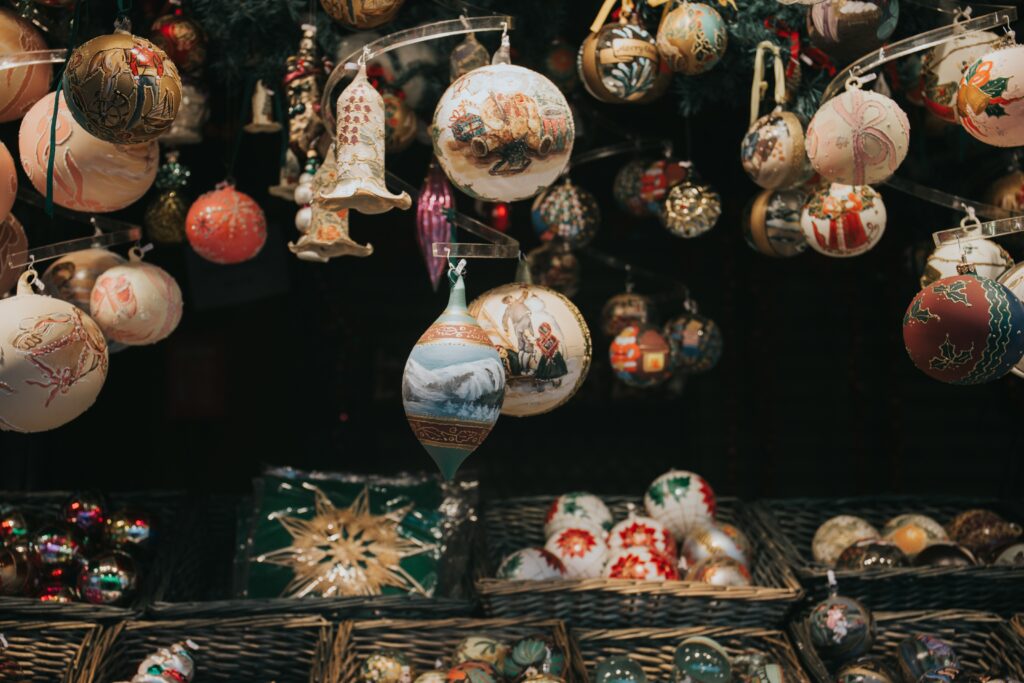 Bath Christmas Market
Don't miss the short yet glorious Bath Christmas Market taking place from the 23rd November until Sunday 10th December. With over 200 market stalls in the streets around Bath Abbey you are spoilt with choice in this charmful area. Even better, the market is completely free, and no tickets are required. If the large range of market stalls don't take your fancy there is also an ice rink, bar and glow in the dark golf at the Royal Pavilion in Royal Victoria Park, available from the 17th November 2023 until 3rd January 2024.
Nottingham Christmas Market
The market at Nottingham's Winter Wonderland is renowned as one of the best in Europe. Located right in the centre of Nottingham in Old Market Square, you can enjoy the magical Christmas stalls from 7th November until Christmas Eve. They have a wide selection of stalls so there is something for everyone and you can be guaranteed a festive packed family day out. Independent traders are hand-picked to offer the best in quality and diversity. If you are 'market stall-ed' out then there are a range of other activities at the Winter Wonderland such as a Sky Skate Ice Path, Observation Wheel, tobogganing and more. All activities will require booking.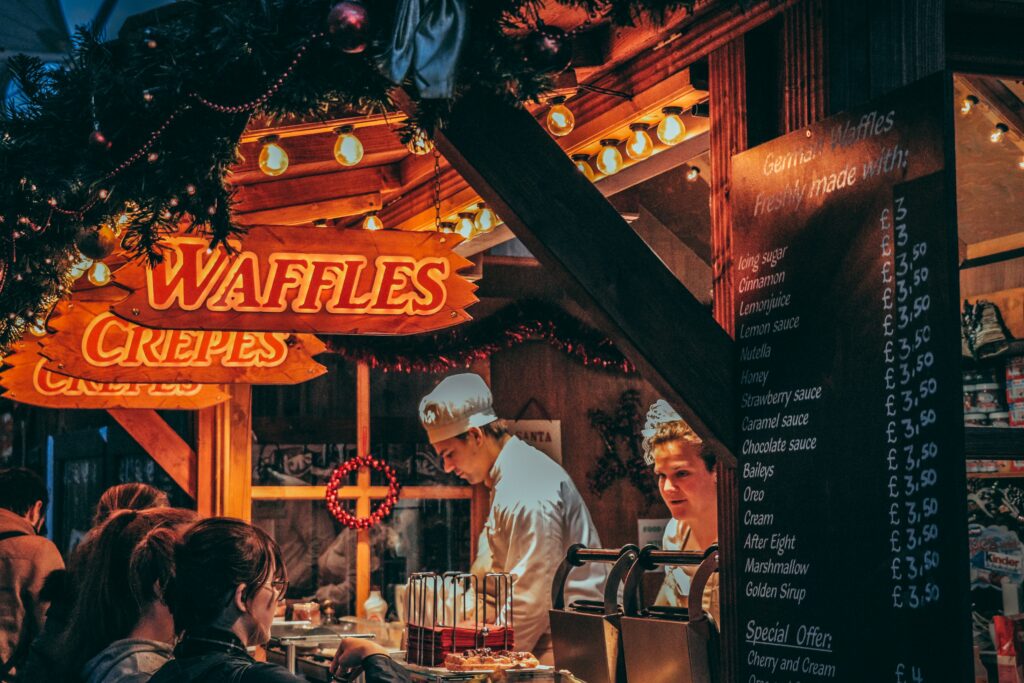 Birmingham Christmas Market
Birmingham Christmas Market is aligned with Frankfurt Christmas Market in Germany and is the largest market outside of Germany and Austria. The dates have not been confirmed yet but the market is likely to start early November and end on Christmas Eve. Taking place in Victoria Square and New Street, the event is completely free. Due to its German pairing the market is well-known for German style bratwurst, pretzels, schnitzels, gluhwein and weissbeer. As well as market stalls there is ice skating, a big wheel and a city flyer. Unfortunately for our furry friends the market does not allow pets to enter. This market can get busy, so a good tip is to try to visit during the week or early in the day to avoid the peak crowds.
Glasgow Christmas Market
Glascow Christmas Market transforms St Enoch Square and George Square into a festive wonderland, likely to take place from mid-November until early January. This completely free event has lots of market stalls to explore with a range of specialities on offer such as haggis balls, Scottish pies, venison burgers, whisky infused fudge, hot toddies and Irn Bru pulled pork!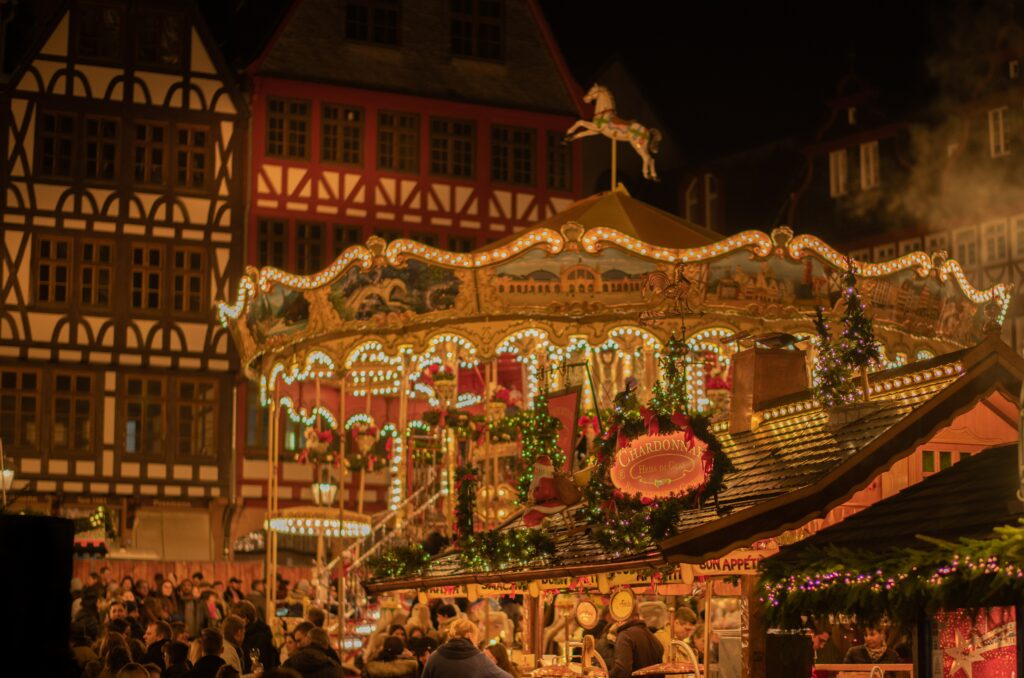 London Christmas Markets
There are too many Christmas Markets to count in London this year, despite this they all have their own unique appeal. Covent Garden stands out for its curated selection of high-quality crafts and range of artisanal food items. Southbank offers a global fair with its variety of international cuisine, balanced with a selection of traditional crafts that showcase local culture. Hyde Park Winter Wonderland is London's biggest Christmas event which includes a traditional Christmas market experience paired with an extensive range of rides and attractions.
Bristol Christmas Market
And last but certainly not least, just down the road we have our very own Bristol Christmas Market and St Nicholas Market. Head down to Bristol Shopping Quarter for Christmas magic, free of charge, beginning on the 3rd November until the 23rd of December. With over 50 stalls to choose from there is plenty of choice for food and drinks. Try some local specialities such as mulled cider, somerset brie bites, and sausage rolls or get your hands on some Bristol blue glass, Banksy art prints or locally made gin!
For a truly festive shopping experience, look no further than St Nicholas Market. Likely to be open every day from mid-November until Christmas Eve.
Are you an independent market trader? Make sure you are prepared for this Christmas season and are insured by experts. Go to CMTIA.co.uk for more details.