Selling your handmade creations is an exciting step for many crafters. Whether you're selling artisan jewellery, natural soaps or something different, there are a number of different ways to get your product in front of your dream customers.
In this article we'll explain how to sell handmade items in person and online, including a summary of the most popular platforms for selling crafts online in the UK.
Where can I sell handmade items online for free?
Most online marketplaces charge a commission or a fee to sellers for using their platform. The only place you can sell your crafts online that doesn't charge a fee is Facebook Marketplace, which allows you to sell to people within a 100 mile radius of your location.

However, it doesn't let you set up your own separate shop on their platform, and Facebook does not offer seller protection or support if anything goes wrong.
Where can I sell my handmade crafts online?
If you're happy to pay a commission or membership fee, there are many different platforms for selling crafts online in the UK. Here is a list of the most popular handmade selling sites in the UK:
Etsy

Etsy is the most popular online marketplace, and selling your product here is likely to get it in front of a wide audience. However, Etsy does charge £0.16 per item listed on their site and will take a 6.5% commission of your sales, so you'll need to weigh this up with the volume of products you're selling to decide if it's worth it.
Folksy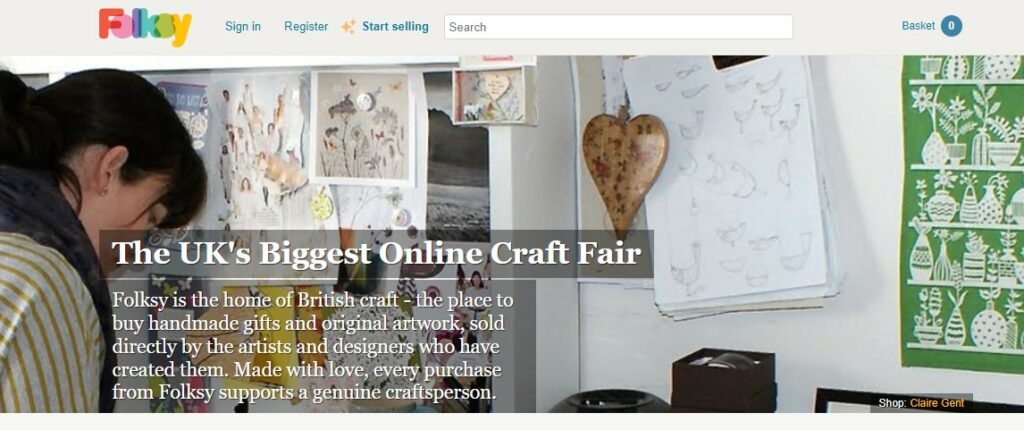 Folksy is the largest handmade selling site in the UK and is known for having a great community of buyers, as well as sellers offering support and advice to each other. You can list your first three items for free, and each additional item costs £0.18 (plus a 6% commission and VAT). Or you can choose to pay a monthly fee for unlimited listings, plus some additional benefits.
Depop

Although Depop is primarily an app used for selling second-hand clothes, some craft businesses set up a Depop account and sell their products on the platform. Depop takes a 10% commission on each sale, so you'll need to factor this into your pricing.
eBay

eBay is a huge online marketplace that some crafters use to sell their products. They have a range of different payment structures and subscription options, and you can set up your own eBay shop. For craft products eBay takes a commission of 12.9%, plus 30p per item sold.
Society6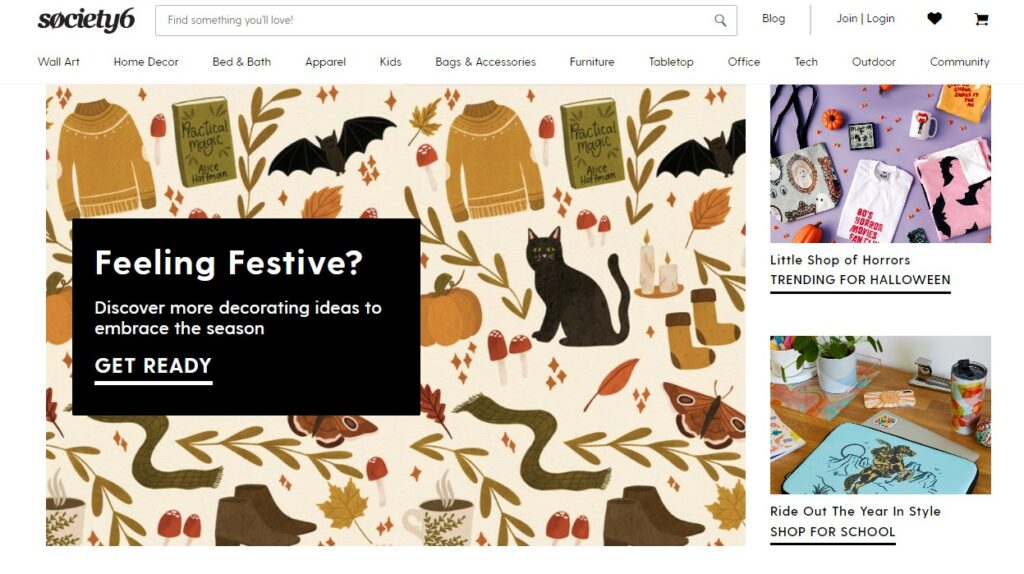 Society6 sells a range of homeware, including furniture and prints, which are customised using designs by artists who are members of the website. For example, a print you have designed could be used on a canvas rucksack (or simply sold as a print to put in a frame). The artist will earn 10% of every sale that features their design, creating a payment structure that is distinct from the other platforms.
So what do you think? What is the best site to sell handmade items in the UK?
Where to sell handmade items locally in the UK
If you want to sell your handmade products locally, you could sell in person at Christmas fairs or craft markets in your area. You could also explore opportunities for selling your product in local craft or gift shops. To sell your product at a market or similar event, you will need market traders insurance.
FAQs

Do I need insurance to sell crafts online?
If you only sell your products online, it is not a legal requirement for you to have insurance. However, it's important to recognise that these websites like Etsy are just selling platforms. If you don't have your own insurance policy, you will not be covered if any issues arise with your products – for example, a customer injuring themselves on a sharp piece of jewellery.
What does craft insurance cover?
There are three main types of insurance for crafters: Public Liability insurance for crafters, Products Liability and Employer's Liability. Crafters Public Liability Insurance covers you if someone injures themselves at your market stall, Product Liability protects you if your product causes harm to a customer, and Employer's Liability protects any employees you hire to work at your stall.
Will I need insurance to sell at craft fairs?
If you sell your products in person at a craft fair, the organisers will need confirmation that your insurance covers you for Public and Products Liability risks, with a minimum cover limit of either £5,000,000 or £10,000,000.
Need insurance to sell your crafts? Visit CMTIA's crafters insurance page for more information, or contact our expert team for advice on the type of insurance you need.